Elissa Kerhulas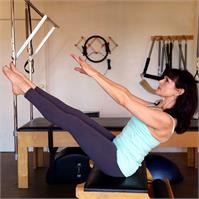 ELISSA KERHULAS discovered Pilates 30 years ago when a neighbor Pilates instructor helped her heal after a car accident. Since then she's developed a repertoire of Pilates exercises for addressing specific issues which also incorporates her training in dance, yoga and breath work. She offers challenging classes and private sessions that are safe, adventurous and always fun.
Teaching Style:
With her background in Yoga, meditation and the healing arts, Elissa has a more Zen approach to a classical Pilates practice. She is warm and encouraging. Great for days when you want to move but need to slow it down a bit!
Elissa Kerhulas instructs the following:
The most popular of all Pilates classes. Dynamic, controlled movements in this class improves flexibility, builds strength and develops control and endurance throughout your body. Emphasis on alignment, breathing, developing a strong core, and improving coordination and balance.